We're going on an egg hunt, we're going to find a big one!
ADHD Norfolk
Postwick Village Hall, NR13 5HL, 4th April, 6.30pm-8.30pm
Easter party with Easter Egg Hunt
Acorn Preschool's Easter Egg Hunt
Tree Plantation Garden, (off Laundry Lane) Thorpe, 28th March, 2pm-4.30pm
Pick up a sheet from Acorn Preschool (£2) All proceeds to Acorn Preschool
Catton Park
Saturday March 31st, 10.30am-1pm
Tickets £3 per child and should be purchased in advance. Includes egg hunt, entry to the Easter card competition and a drink with small cake.
Easter Fun Day
Free Easter Egg Hunt, 1st April, 12pm-5pm, Sprowston Sports and Social Club
Fairhaven Woodland and Water Garden
Friday March 30th, 11am-4pm
Garden entry applies plus £2.50 extra per child for the Easter egg trail, every child gets an egg. Face painting and Easter crafts for children.
Holt Hall
Open Gates event on the 15th of April 2018.
Tickets £10 per child and all adults & car parking free (all activities included in the ticket)
-Spring Egg Hunt – prizes for all ages and abilities. Will you hop, skip or jump to follow a trail to claim your prize?!
-Den building
-Pond dipping
-Cooking damper bread and marshmallows on the campfire
-Crafts using natural materials (around the fire)
-Plant a wildflower to take home
Holt Country Park
3rd April, £5
Rangers will be on hand this Easter to deliver some informative and creative children's activities during the school holidays.  North Norfolk District Council will be hosting Fancy Dress Easter Egg Trails at Holt Country Park and Bacton Woods as well as a treasure hunt that aims to help children learn more about the different types of wildlife eggs. On successful completion of the trail children will earn an Easter delight! There will also be an opportunity to make a mini wildflower garden to take home.  Fancy dress is optional, prizes will be awarded for the best efforts.
Hoveton Hall Gardens
30th March – 2nd April
An exciting Easter Treasure Hunt awaits you in the gardens! Children can take part in our Easter Treasure Hunt. By following the clues, the treasure hunt will take you all on an exciting journey around the gardens ending at the entrance kiosk so they can collect their Easter prize.
There is also an Easter Egg Hunt in the walled gardens especially for the little ones who are helped find eggs by our very own Easter Bunnies.
Entry to the gardens is £7.50 per adult, £4 for children aged 4 -16, OAPs £6.50, under 4's are FREE. Once you have paid your admission the Easter Treasure Hunt is free to take part. The gardens are open from 10.30am to 5.00pm.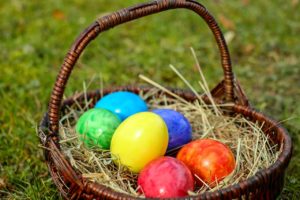 North Walsham Memorial Park
31st March, 9.30am-midday.
Easter egg hunt at North Walsham Memorial Park will go towards a fundraiser for new play park. Starting from Poppies Nursery. The cost is £3 per child, and all children taking part will leave with a goodie bag.
Park Britannia, Waterloo Park
Come and take part in our Easter Egg Trail. Find the eggs hidden around the park, unscramble the letters and collect a mini chocolate egg prize.
Good Friday – Easter Monday
10:30am – 3.00pm
Pensthorpe Natural Park
29th Mar 2018 – 15th Apr 2018
There will be a Golden Egg hunt where you will need to work together as a family to search our park to find the golden egg. Whoever finds the egg and brings it back to our shop will have the chance to win eggclusive prizes through our lucky dip prize draw! The golden egg will be hidden in a different top-secret location every day!
Pilling Park Community Centre
Good Friday (3oth March) 10:30-1:00pm, there will be (all FREE):
– Kids crafts
– Giveawy
– Tea/coffee and cakes
– Car washing in the car park
AT 11:30 THERE WILL BE AN EASTER EGG HUNT IN PILLING PARK FOR 1-11YEAR OLDS! PLEASE REGISTER FOR THE HUNT IN THE PARK FROM 11AM.
RSPB Strumpshaw Fen
30th March – 8th April
Family Easter Trail on nature reserve. Each child receives a chocolate egg prize. Normal entry to the reserve applies plus £2.50 per child taking part in the trail.
Salhouse Broad
30th March, 10am-3pm
£4 per trail sheet (Includes prize)
Sandringham Visitors Centre
31st March
The Priory Rotary Club of King's Lynn invite adults and children to enter their Easter Egg Trail in aid of the East Anglian Air Ambulance Trust on Easter Saturday (10am to 3pm).
Sheringham Park – National Trust & Cadbury Easter Egg Hunt
Saturday 24th March to Sunday 15 April, 10am – 4.15pm
Bunny has been hopping through Sheringham Park and found so much to do that a choice of two trails have been provided to lead you to a yummy Cadbury Easter treat. All trails £2.50.
Spixworth Social Club
Saturday March 31st, 1pm-3pm
£2 per child (up to 10 years) tickets on sale behind the bar.
**CANCELLED**Woodland Easter Egg Hunt and Dog Treat Hunt, F.A.I.T.H Animal Rescue
Friday March 30, 12pm-3pm
£2 per child (Age 12 and under) and £1 per dog.
PLEASE check the details of any event you are planning on attending.
Have I missed any? Let me know HERE.
For full listings of what's on over the Easter holidays go to the Easter Holiday Page or Events Calendar.