Normally I am not a 'Newborn photography' kind of person.  Seeing photographs of babies placed in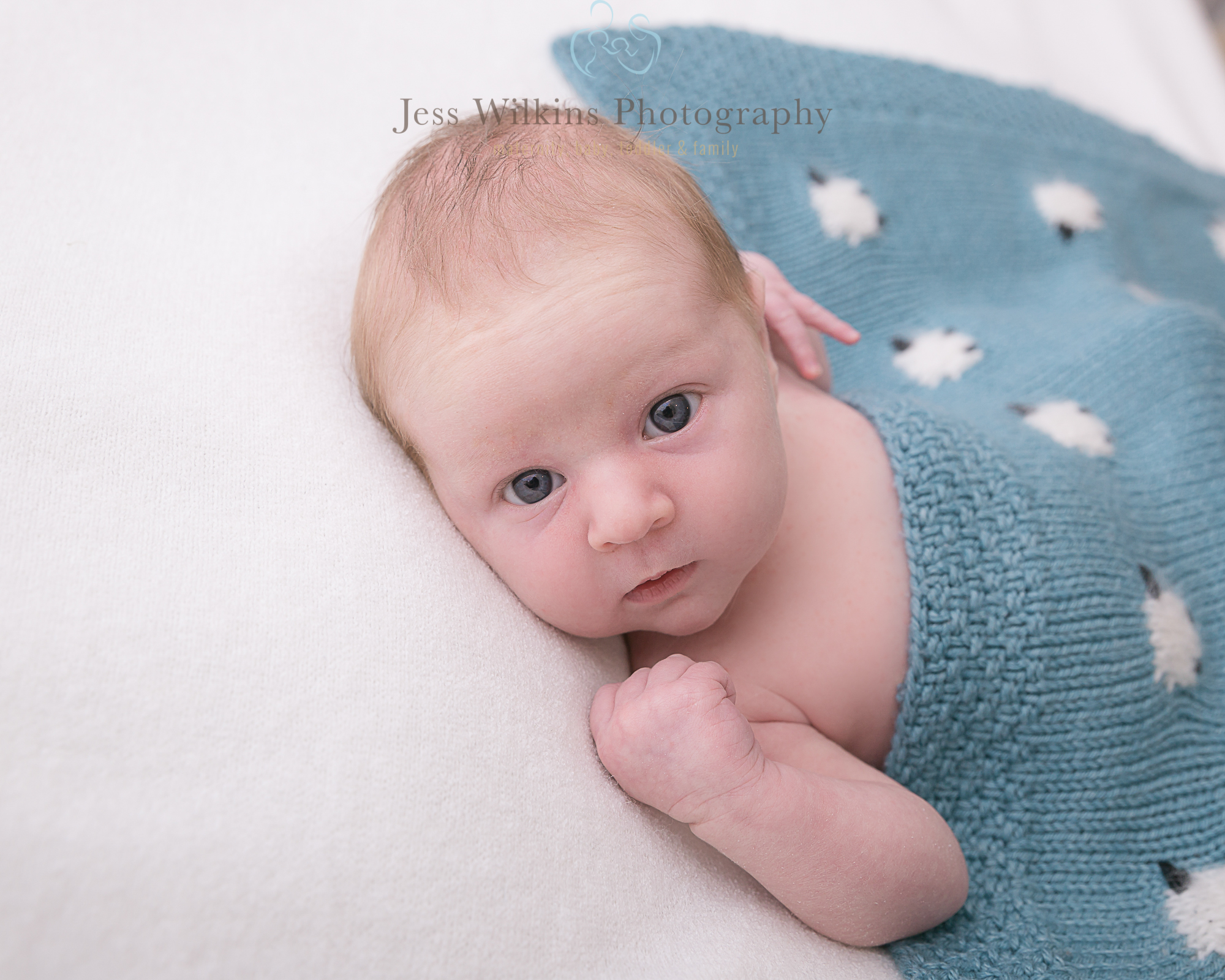 flowerpots or sitting up inside a boot doesn't really make me think 'how adorable'.
However, when I saw the adverts for Jess Wilkins Photography and how simple and 'clean' the style was, I began to think how it might not be so bad to have some professional photographs of my Mini Mumblers.  After all, they're not tiny for long and I'm definitely not having any more (as lovely as the unplanned home birth with my second was, I'm just not sure I'm cut out to create a 3rd little being!)

We booked in a Newborn mini shoot, which includes 10 digital images, and I explained that my 2.5 year old would have to come as it was for a day she wouldn't be at the childminders.  Jess said that would be no problem and she would even take a few of the two girls together.  Bonus!
Before the appointment Jess sent an email with ideas of what to dress the girls in to get the best photos, which was really helpful.  The information she sent was also reassuring by saying that we would work around the baby if she needed feeding or changing, which put me at ease as at 4 weeks old who knows what could happen!  (She was very overdue a poo).
We arrived at Jess's house wi
th my eldest Mini Mumbler running in whilst announcing 'I'm here!!' giving Jess an idea of her personality from the get-go.  Jess was very welcoming and the studio was a cosy temperature.  She straight away honed in on the fact that my toddler would need some distracting (other peoples' words to describe my daughter have been 'vibrant' and 'lovable but feisty'!) so offered to take pictures of the two of them straight away to get her involved.
Have you ever tried to give directions to a 2.5 year old?  It became a little like wrangling with a small monkey.  She would move as soon as she was in the right place so needed putting into some positions but she managed to follow the instructions quite well and Jess was very patient and positive, just what was needed.  Luckily I had brought lunch type items to stave off any toddler meltdowns and Jess was then able to get the newborn shots of tiny Mumbler by herself.
I had assumed that I would have to move my baby around into positions, so I hadn't really thought about letting someone I didn't know handle her, but Jess confidently and gently moved my little one around so I was not worried in the slightest.  I know Jess is trained to safely handle newborns and would definitely recommend this being something you consider if you're looking for someone to take photos of your newborn.
The whole experience lasted about an hour, a perfect amount of time to keep the toddler entertained and without the newborn getting overtired (I don't produce offspring that just randomly fall asleep, unfortunately) and upon leaving I felt really excited about the photos she had taken.
When I received the email with photo links I was not disappointed.  The photos looked clean and simple, just what I had wanted.  The only thing I would recommend is perhaps waiting for your newborn's eyes to consistently work together.  As my tiny Mumbler was only 4 weeks old at the time of the shoot (and very awake for the whole thing, no cute sleepy shots for us!) a few of the photos showed her to be cross-eyed, perhaps not what she would want me documenting and showing everyone on her 18th birthday!
We love the 10 photos that we selected and would recommend that even "non-newborn photoshoot kind of people" consider having professional photos taken of their teeny Mumblers whilst they're still teeny.
You can see more examples of Jess Wilkins' photography on her Website or find her on: