Mumbler, Anna, has given us her top 10 conker-ific ideas…
10 ideas of things you can do with your conkers!
1. Play the traditional game of conkers we all remember from our childhood!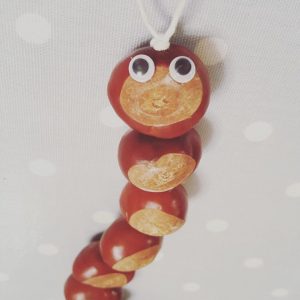 2. Make a conker snake or caterpillar.  As well as been great fun these are also a great way of helping children with their number bonds to 10 as they can move the conkers up and down on the string.
Either skewer or drill a hole in the conkers, children can then use their fine motor skills threading the conkers on the string.  One thing to note conkers are hard to stick things to so I would recommend the eyes that have peel back stickers or super glue.
3. Practice counting with conkers.  We got out the numicon and the eldest mini mumbler helped the youngest with his number practice. They also sorted the conkers into a line from the smallest to largest and the eldest practised counting in 2s and 5s with conkers.  They both had great fun with the conkers and didn't realise it had an underlying maths focus!
4. Paint with conkers.  This is a bit like marble painting but with conkers!  We got a baking tray put a sheet of paper in the bottom squirted different colours of paint in the tray and rolled the conkers around to make pretty conker pictures!
5. Conker games. Why not add a bit of fun into some traditional games with the use of conkers. e.g. Conker & Spoon race, Conker Boules, place an object like a large stone and see who can get their conker the closest.
6. Conker puppet family. Act out one of your favourite stories with conker puppets.
7. Conker decorating. In the case of my two, decorating conkers was like decorating eggs at Easter – see how much glitter they can get on the conkers and themselves!!! There are lots of ways to decorate conkers and suitable for all ages, you could also try conker printing with flat conkers.
*Pinterest
8. Fend off spiders. Its the time of year when spiders make an appearance, apparently placing conkers around the house on windowsills keeps the spiders away.
9. Conker jewellery. Drill holes in the conkers and you can make a necklace or bracelet.
10. Make conker animals. Let your child's imagination run wild, get out the craft box, playdough or use other autumnal materials like acorns, leaves sticks and make your favourite conker animal.
Thanks, Anna!

Where to find pumpkins…
White House Farm, Blue Boar Lane
A farmshop, award winning butchery and cafe on site, plus a range of shops to suit all. Dogs and families welcome. Monthly farmers' market on the third Saturday of the month.
Contact 01603 419357.
Norwich Road. A family run farm shop offering fresh seasonal grown fruit and vegetables, picked daily. CASH ONLY. Weekend opening hours are Saturday 8.30-12.30 and closed Sundays. Contact 01603 737359.
The Grange, Rollesby, NR29 5AJ.  Farm shop and PYO field. The shop is open daily from 9am to 6pm, while the PYO runs from 10am to 4pm. Contact 01493 740236.
Algy's Farm Shop, Bintree, Norfolk
Bintree, Dereham, NR20 5NE. Bintree has a pumpkin patch next to the farm shop where you can go and pick your own throughout October. Algy's is also known for its popcorn! Contact 01362 683893.
Old Hall Farm, Norwich Road, NR35 2LP Woodton, Norfolk
…and if you want to go a bit further afield…
Undley Pumpkin Patch, Undley Rd, Beck Row, Lakenheath, Bury Saint Edmunds IP28 8BX
Our event opening through October only, offers one of the largest selection of pick your own pumpkins in Suffolk. There is an entirely new Maize Maze in the form of a scarecrow as well as a new site layout. Activities for 2018 include a live circus performance and workshops for all to take part.