September 2020 update
Where to pick pumpkins
(image from Algy's Farm Shop facebook page)
---
White House Farm, Wroxham Road, Rackheath, NR13 6LB
Whitehouse Farm : PYO cancelled (from website)
"We regret that we are no longer offering Pick Your Own. After much deliberation, we have decided to focus our efforts on the farmshop where you will find fresh strawberries, raspberries and an array of seasonal fruit. We also take orders in advance and are supported by a stream of local growers."
---
Hill Farm, Norwich Road, Horstead, NR12 7BA.
A family run farm shop offering fresh seasonal grown fruit and vegetables, picked daily. Big pumpkin patch this year and open for PYO, please check FB page for details of times.
Also:
Halloween is fast approaching and so it is time to get your costumes ready for the fabulous Pumpkin Shoot with PerfectPosePhotography at
Hill Farm on  Saturday 17th October 10am to 2pm.
£25 gets you four digital images with full copyright. Payment due on the day.
No need to book, just come along, but please do stay safe and socially distance.
---
The Tacons, Rollesby, Norfolk NR29 5AJ.
The Grange, Rollesby, NR29 5AJ.  Farm shop and PYO field.
PYO Blackberries and Raspberries. Pumpkins will be weekends through October and daily half term onwards
Opening times are 10am to 5.30pm for fruit,
10am to 4pm for onions and pumpkins. Contact 01493 740236.
---
Algy's Farm, Bintree, Dereham, NR 20 5RE
Pumpkins Halloween…. we're getting ready at Algys farm-shop.
There is a mega crop of traditional pumpkins plus the odd ghost pumpkin and of course the wibbly wobbly pumpkins.
Throughout Oct pumpkin picking from the field will be available…. get picking early in the month to avoid the half term rush.
Field next to shop.
Plenty of space for social distancing in groups of 6… as always strong adherence to safety guidelines.
Contact 01362 683893.
---
Old Hall Farm, Norwich, Woodton, NR35 2LP
Our annual pumpkin picking event will start on Saturday 3rd October!
Entry will be £5 per car, which will include a medium size pumpkin – additional pumpkins available – priced according to size!
There will also be a trail round the farm, and the shop and café will be open as usual.
Strict Covid guidelines will be in place, and customers will be expected to follow all social distancing guidelines.
See more in the FB page.
---
Wroxham Barns Pumpkin Festival 2020
22nd October – 1st November
Wroxham Barns Pumpkin Festival is back for another year BIGGER & BETTER thank ever before. Tickets include unlimited access to Junior Farm & The Fun Park, plus a FREE Pumpkin for every paying child, along with spell and potion school with Wilma the Witch!
As you can imagine things are slightly different to ensure we are keeping you safe whilst you're having a fun day out. You MUST book online and choose an arrival time, this allows us to manage our capacity and ensure we're Covid secure.
---
The Pumpkin House, Brookhill Farm, Fakenham Road,  Thursford, NR21 OBD.
Halloween – We are back! Opening dates are 21st – 31st October 2020.
New for 2020 a special Miniature Pumpkin House will be open, perfect for any visiting little witches and wizards. Plus the haybale maze, pumpkin totem poles and the musical organ will all be back as usual. Further details to follow so please check back, see FB page for more details.
Download your own colour in pumpkin to put in your windows for the Mumbler Pumpkin Trail
---
10 ideas of things you can do with your conkers!
This blog was first published in 2018, but it's so great, we thought you'd like to see it again!
Thanks to fantastic Mumbler, Anna who gave us her top 10 conker-ific ideas…
1. Play the traditional game of conkers we all remember from our childhood!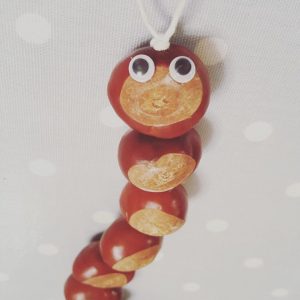 2. Make a conker snake or caterpillar.  As well as been great fun these are also a great way of helping children with their number bonds to 10 as they can move the conkers up and down on the string.
Either skewer or drill a hole in the conkers, children can then use their fine motor skills threading the conkers on the string.  One thing to note conkers are hard to stick things to so I would recommend the eyes that have peel back stickers or super glue.
3. Practice counting with conkers.  We got out the numicon and the eldest mini mumbler helped the youngest with his number practice. They also sorted the conkers into a line from the smallest to largest and the eldest practised counting in 2s and 5s with conkers.  They both had great fun with the conkers and didn't realise it had an underlying maths focus!
4. Paint with conkers.  This is a bit like marble painting but with conkers!  We got a baking tray put a sheet of paper in the bottom squirted different colours of paint in the tray and rolled the conkers around to make pretty conker pictures!
5. Conker games. Why not add a bit of fun into some traditional games with the use of conkers. e.g. Conker & Spoon race, Conker Boules, place an object like a large stone and see who can get their conker the closest.
6. Conker puppet family. Act out one of your favourite stories with conker puppets.
7. Conker decorating. In the case of my two, decorating conkers was like decorating eggs at Easter – see how much glitter they can get on the conkers and themselves!!! There are lots of ways to decorate conkers and suitable for all ages, you could also try conker printing with flat conkers.
*Pinterest
8. Fend off spiders. Its the time of year when spiders make an appearance, apparently placing conkers around the house on windowsills keeps the spiders away.
9. Conker jewellery. Drill holes in the conkers and you can make a necklace or bracelet.
10. Make conker animals. Let your child's imagination run wild, get out the craft box, playdough or use other autumnal materials like acorns, leaves sticks and make your favourite conker animal.
Thanks,